Social Media
Affiliates









Wanna be here? E-Mail us!
Mind Of Mine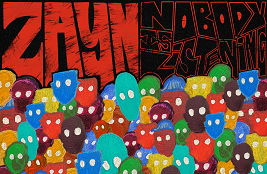 Mind of Mine is the debut studio album by English singer and songwriter Zayn. It was released by RCA Records on 25 March 2016. It has received mostly positive reviews from music critics, with praise directed towards Malik's new musical direction, his vocal performance, and the ambitious experimental production. Singles from Mind of Mine: 'PillowTalk', 'Like I Would', 'BeFoUr' and 'iT's YoU'.
Latest Video: Dusk Till Dawn
Instagram
After the overwhelming success of his debut solo album, all eyes are on VMAN38 cover star Zayn Malik as he readies to release his follow-up. If you think the attention might have gotten to him, think again: music's most in-demand superstar may also be its most humble.
Over the week leading up to my interview with the elusive Zayn Malik, much of my time is spent reading up on the endless list of articles that paint him as the bad boy who broke millions of teenage hearts after leaving One Direction. While it would be a much easier story to tell you that Zayn fulfilled every post-Destiny's Child Beyoncé, rogue boy bander stereotype imaginable, that wouldn't be honest. The truth is that Zayn Malik is not a "bad boy" at all. In fact, he might be the furthest thing from it.
When we connect, it hardly registers that the person I'm speaking with is a celebrity—let alone one that has accrued 23 million Instagram followers, over one billion streams on his critically acclaimed debut album, an estimated net worth of $45 million, and the world's most in-demand supermodel as a girlfriend. (Not to mention that his name literally translates to "beautiful king.") He speaks with ease, offering the types of down-to-earth insight that I would hardly expect from someone who has been known to cancel arena-size shows due to anxiety. When we converse, I begin to understand that this is because I'm not speaking to Zayn, the ultra-famous boy who left One Direction—a fictionalized character and narrative that's as publically manufactured as the now-dismantled band itself—but rather Zayn, the artist and individual.
Continue Reading ➔
Midway through Virginia Woolf's novel Orlando, a startling transformation takes place: Our hero, Duke Orlando, awakens from a seven-day slumber to find that he has switched genders. "Orlando had become a woman," Woolf writes, "but in every other respect, Orlando remained precisely as he had been. The change of sex, though it altered their future, did nothing whatever to alter their identity."
He becomes they. The pronouns shift, but the person remains the same. Woolf's words, written in 1928, could easily be mistaken for a manifesto posted yesterday on Tumblr, the preferred platform for the growing cohort of "fluid" young people who, like Orlando, breezily crisscross the XX/XY divide. Fashion, of course, has taken note of the movement, which is sufficiently evolved to boast its own pinups, including Jaden Smith, recently the star of a Louis Vuitton womenswear campaign, and androgynous Chinese pop star (and Riccardo Tisci muse) Chris Lee. But where, exactly, is someone neither entirely he nor she meant to shop? And how, exactly, is such a person to be defined?
"They don't want to be defined," says Olivier Rousteing, creative director of Balmain, one of the many designers taking inspiration from the trend. "You see boys wearing makeup, girls buying menswear—they are not afraid to be who they are. This category or that category—who cares? They want to define themselves."
As announced earlier today, ZAYN (AKA Zayn Malik) is the fourth and final cover star of the latest issue of Clash. Though currently available to order (here, in case you were wondering), the magazine won't hit stores until next week, but rather than keep you waiting with just a steamy cover pic for company, Clash is treating you to a teaser extract from the cover story itself.
Speaking with Clash's Editor-In-Chief, conversation largely focused on the further development of ZAYN as a solo artist as he continues to redefine himself following his liberation from the creatively stifling conditions of One Direction. We find him in New York where he's wrapping up his second album, mindful of the commercial and critical success of its predecessor – 2016's sex-dominated 'Mind Of Mine' – and considering the progress he's made since.
Talk turns to the work/life balance, chilling with his girlfriend, his recent collaboration with Versace and his new life in LA… But all of that is yet to come – be patient! In the meantime, here is a sneak peek at a little of what you can expect…
You've spoken before about how you feel like your evolution as a songwriter only really began to develop after leaving the band. How do you think you've changed in the space of time between your debut album and this new one?
Even though it has been a short space of time, I think you can definitely be able to see a progression in my writing – well, I'm hoping so, anyway. But I feel that way when I listen to it: I feel like there's definitely a bit more organisation with things, if that's the way to explain it. Things kind of make a bit more sense to me. I feel like on the first record things were a bit experimental – I was just trying to find my feet – and with this one, I feel like I've found that pocket a little bit more and it's a bit more developed. I'm just a bit more organised and a bit more structured with the way I'm songwriting now, I think.
Continue Reading ➔
Zayn's brand new collection with Versus Versace called Zayn x Versus has officially arrived!
The 24-year-old singer enlisted some help from his girlfriend Gigi Hadid's sister Bella to model the women's pieces from the fashion line.
"When I was a kid growing up in Bradford, England, wearing knock-off Versace, I never thought that one day I would actually be designing my own collection", Zayn said in a statement. "Thanks so much to Donatella Versace for allowing me to do the coolest thing ever".
The collection debuts today (June 19) at versusversace.com and on in-store on June 28th following a launch event in the New York boutique with a percentage of the net profits donated to charity.
Zayn has been announced as the latest cover star of The Sunday Times Style supplement.
Due for publication on Sunday 19 March, the newspaper shared a photo from their photoshoot with Malik looking as cool as ever, on their Instagram on Wednesday 15 March.
Gigi Hadid picked up a camera to shoot Versace's new Versus campaign, starring her boyfriend Zayn Malik and model Adwoa Aboah.
Gigi captured the intimate photos with iPhones and digital cameras at the legendary Chateau Marmont in Los Angeles.

"It was sick to work with Versus. Dontella is a G. It was extra special that Gigi shot the campaign. Looking forward to following up with my Versus collection that drops in June", Zayn said in a statement.
Gigi added on her Instagram, "My man by me for @versus_versace SS17!! thank you so much @donatella_versace @patti_wilson @joannasimkin @eriktorstensson #versusuncesored".
Zayn's fashion cred is on the rise. In February he'll reveal his vision for Versus Versace as the brand's newest "rock star" designer, and today the musician debuts his line of shoes with Giuseppe Zanotti. Zayn and Zanotti met at Paris Fashion Week in 2015. "When I saw him, I said to myself: 'He is a cool guy and the epitome of a modern rebel,' " said Mr. Zanotti, who knows a thing or two about finding creative provocateurs to work with. Don't forget, Mr. Z calls Beyoncé a friend and client.
"I like to work with musicians because we share a very similar vision," said Zanotti. "[Zayn and I] have always had an appreciation for one another, but it was during our first encounter in Paris that we realized we had a similar attitude and approach: iconic, edgy, and expressive. Zayn's bold and individualistic vision, easy coolness, and love for fashion mean a lot to me."
For Malik, the collaboration marks a slight shift in his direction from musician with style—and a stylish girlfriend in the form of Gigi Hadid—to style star in his own right. Here, the Londoner chats up Vogue.com about what inspired his shoes and his personal style rules.
How did the idea for a shoe collaboration with Giuseppe Zanotti come about?
When Mr. Zanotti and I first met at Paris Fashion Week last year we realized that even though what we each do, music and shoe design, could be seen as worlds apart, we had a lot in common in how we approach and style them. I like things which are a bit dark and weird, and Mr. Zanotti isn't afraid to play with those elements either. The process of designing my collection has been really fun as a result!
Most of the shoes you designed together have a boot-like silhouette and come in neutral colors—why did you gravitate toward this style?
I wanted to mix up the iconic rock 'n' roll styles like boots, which are quite hard, with organic colors. I think the mix makes them feel quite classic.
What were some of your inspirations for the designs?
I'm always sketching down ideas and designs. I draw and paint a lot, so when it came to the shoes, I think that the ideas were already in my mind, somewhere. It was just a matter of putting them together. I take influence from everything I see, and I think when you look at all of the things I make from music, my merchandise, and these shoes that they all have a darker aesthetic.
Your fashion star is rising with your Zanotti collaboration and your upcoming one with Versus Versace—why is fashion something you're interested in pursuing?
Like I said earlier, I love to design and I can't see that suddenly stopping! Fashion, like music, reaches everyone and has turned out to be another outlet for me. I'm so excited about learning from Mr. Zanotti and his team, plus Donatella Versace and her team.
What's your personal style motto? How do you define your personal style?
I don't think I have a motto really. For me fashion and style is very personal and rather than following trends I like to mix a few timeless pieces with whatever makes me feel good!