Social Media
Affiliates









Wanna be here? E-Mail us!
Mind Of Mine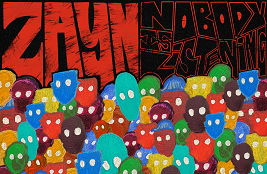 Mind of Mine is the debut studio album by English singer and songwriter Zayn. It was released by RCA Records on 25 March 2016. It has received mostly positive reviews from music critics, with praise directed towards Malik's new musical direction, his vocal performance, and the ambitious experimental production. Singles from Mind of Mine: 'PillowTalk', 'Like I Would', 'BeFoUr' and 'iT's YoU'.
Latest Video: Dusk Till Dawn
Instagram
After the overwhelming success of his debut solo album, all eyes are on VMAN38 cover star Zayn Malik as he readies to release his follow-up. If you think the attention might have gotten to him, think again: music's most in-demand superstar may also be its most humble.
Over the week leading up to my interview with the elusive Zayn Malik, much of my time is spent reading up on the endless list of articles that paint him as the bad boy who broke millions of teenage hearts after leaving One Direction. While it would be a much easier story to tell you that Zayn fulfilled every post-Destiny's Child Beyoncé, rogue boy bander stereotype imaginable, that wouldn't be honest. The truth is that Zayn Malik is not a "bad boy" at all. In fact, he might be the furthest thing from it.
When we connect, it hardly registers that the person I'm speaking with is a celebrity—let alone one that has accrued 23 million Instagram followers, over one billion streams on his critically acclaimed debut album, an estimated net worth of $45 million, and the world's most in-demand supermodel as a girlfriend. (Not to mention that his name literally translates to "beautiful king.") He speaks with ease, offering the types of down-to-earth insight that I would hardly expect from someone who has been known to cancel arena-size shows due to anxiety. When we converse, I begin to understand that this is because I'm not speaking to Zayn, the ultra-famous boy who left One Direction—a fictionalized character and narrative that's as publically manufactured as the now-dismantled band itself—but rather Zayn, the artist and individual.
Continue Reading ➔
Gigi posted new photo of Zayn on her instagram, captioning it "heaven is a place on earth !! ". You can chceck the photo in our gallery:
Kenyatta "KING YATTA", hip_hop_motivator, posted new photos with Zayn on his instagram. Photos now are deleted from his account.
Two days ago Zayn was spotted out with his team in West Hollywood, California.
Yesterday Zayn was spotted out with his team in West Hollywood, California.
"When I first moved in, I was staying here on a mattress for about six months. I didn't really want to do anything to it. I just liked the way it felt. . . there was nothing to really hold onto." Would you ever guess that these were the words of Zayn Malik, singer, heartthrob, and current Vogue cover star? We certainly would not have, at least until now. Sounding off on everything from fashion to fame to his current living situation, Zayn gave Vogue a look inside his home studio on a recent afternoon.
"The studio is kind of like what I always envisioned my bedroom to be like as a child, but couldn't quite ever afford," Zayn says. A cursory glance around quickly reveals that the space is indeed brimming with possessions that a younger Zayn would likely have approved of. Supreme stickers are seen repeatedly, while a black and yellow speaker set is layered with sticker depictions of everyone from Mario to Bart Simpson. In another corner, a figurine of Toy Story's Slinky Dog can be glimpsed.
Nearby, a collage that started off small now takes up an entire wall. ("What I initially thought was, I'm going to put some posters in frames, I'm going to paint them. . . . I never ended up doing that," Zayn admits.) And not far from there, a coffee table has been creatively filled with Zayn's personal comic book collection. "They were in a safe somewhere," Zayn explains. "They had cobwebs and stuff on them. We just decided to take them out and put them in the coffee table."
A creative use of an almost forgotten set of possessions. But as Zayn says of all the items here, they are "little bits of me."
Midway through Virginia Woolf's novel Orlando, a startling transformation takes place: Our hero, Duke Orlando, awakens from a seven-day slumber to find that he has switched genders. "Orlando had become a woman," Woolf writes, "but in every other respect, Orlando remained precisely as he had been. The change of sex, though it altered their future, did nothing whatever to alter their identity."
He becomes they. The pronouns shift, but the person remains the same. Woolf's words, written in 1928, could easily be mistaken for a manifesto posted yesterday on Tumblr, the preferred platform for the growing cohort of "fluid" young people who, like Orlando, breezily crisscross the XX/XY divide. Fashion, of course, has taken note of the movement, which is sufficiently evolved to boast its own pinups, including Jaden Smith, recently the star of a Louis Vuitton womenswear campaign, and androgynous Chinese pop star (and Riccardo Tisci muse) Chris Lee. But where, exactly, is someone neither entirely he nor she meant to shop? And how, exactly, is such a person to be defined?
"They don't want to be defined," says Olivier Rousteing, creative director of Balmain, one of the many designers taking inspiration from the trend. "You see boys wearing makeup, girls buying menswear—they are not afraid to be who they are. This category or that category—who cares? They want to define themselves."